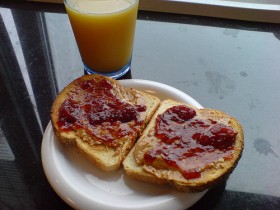 Never Fear — Peanut Butter is Here!
It's 6 a.m. Once again you spread peanut butter and jelly on your child's sandwich. Guilt pours over you. You should send a little variety in his or her lunch but at 6 a.m., how can your sleeping brain cleverly whip up a Turkey Club sandwich with freshly fried crisp bacon, turkey you roasted the night before and lettuce and tomatoes picked from your garden that morning. Top that with 5 fresh rosette shaped veggies along with compote of passion fruit, mango and star fruit.
Let's not even talk about preparing it or convincing your child to actually eat it. Well ladies throw that guilt right out the window because my motto is "never fear-peanut butter is here!" In my wise old age I have concluded that children go through stages of eating just like crawling, walking, the terrible 2's and teen-age. Each stage has it's challenges but parents and children alike actually survive them all.
First milk, then mushy stuff, followed by the "I want" stage, when no matter what it is it's going in my mouth. That includes potting soil and toilet water but not anything on a plate set before them at the table. This stage lasts a very long time, but some golden day they move to the next stage: the peanut butter & jelly stage- (and you thought the other stages were bad).
For three meals a day they dig in their heels and want nothing else. It's what I call a no brainer menu – peanut butter, piece of fruit and chips or carrot stick- made with little effort and very little clean up. Instead of feeling guilty try to enjoy this stage as much as possible. Eventually guilt will again overcome us insisting that we must teach them proper eating habits. When that happens, try this recipe for something that they may actually eat rather than trade or throw away.
Apple Oatmeal Bars
1 cup quick cooking oatmeal
1/2 tsp. salt
1/2 cup butter
1 cup flour
1/2 tsp. cinnamon
2 1/2 cups apples, chopped or 3/4 cup apple butter (omit cinnamon)
1/2 cup sugar
Combine the first five ingredients, and pat half into an 8×8 inch pan. Layer apples and sugar. Crumble remaining mixture on top. Bake 35 minutes at 350°
Photo By: kalleboo