This easy barbecue beef recipe is a great way to use leftover roast beef and make a quick and easy meal your entire family is sure to love! You can find this recipe in our Dining On A Dime Cookbook on page 77.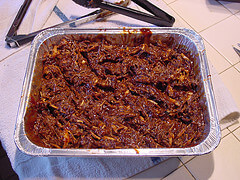 Easy Barbecue Beef Recipe
leftover roast beef
barbecue sauce
3 Tbsp. water
Put leftover beef in a saucepan and add water. Heat until warmed through on medium. Add enough barbecue sauce to coat beef and simmer for 3 minutes. Serve on buns, bread or toast.
This easy barbecue beef recipe is from our cookbook:
Would you like to serve food that will lower your grocery bill and your family will love to eat?
Click here to get our Dining On A Dime Cookbooks, with tasty recipes and great tips to make your life easier and save you money!
photo by: naelyn