Most people have to deal with a tight budget at times. Here are some ideas about how to make living on a tight budget easier from part 3 of the Debt Free Living interview about Living On A Tight Budget.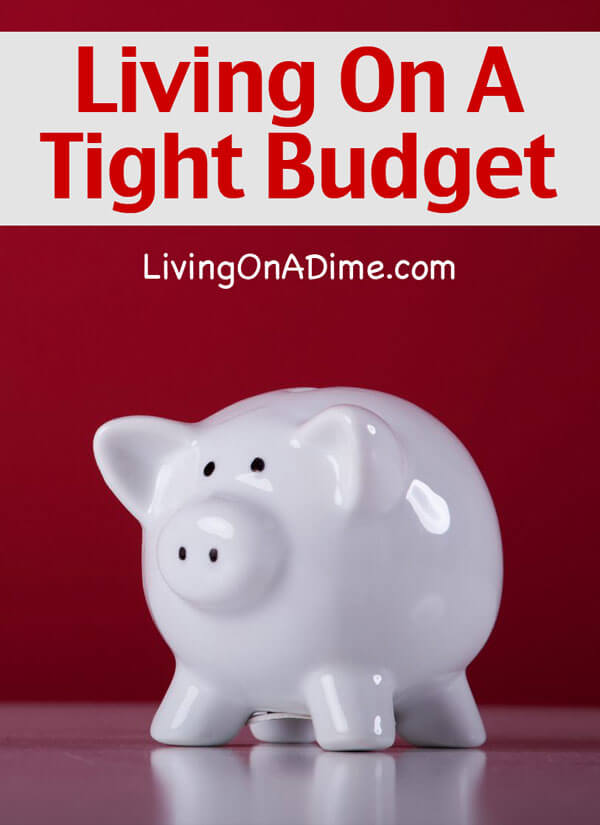 Debt Free Living – Living On A Tight Budget
Hello everyone! If you've read Debt Free Living and Debt Free Living-God Provides, you know that I was recently interviewed about debt free living and how living without debt relates to my faith. Here is the final part, my answer to the top lessons I would give anyone who is dealing with a tight budget.

      -Jill
Interviewer: What are the top lessons you would give a family or even a single person who is living on a tight budget?
Don't think that using a credit card or getting a loan will make it better. Going into more debt will not help you get out of debt.
Get rid of your pride. You may have to shop at garage sales for a while. You may not be able to have your kids in sports and you might have to say no to friends when they want you to go to an expensive restaurant. Pride is a sin. God didn't kick the angels out of heaven because they murdered someone or were doing drugs, drinking or smoking but for pride.
Stop worrying about what others think or whether or not you are making a good impression. We constantly tell our kids not to give in to peer pressure but we do it all the time. We Christians can be especially bad about worrying what other Christians are going to think of us. That is the same as when your kids worrying about their peers.
Here's something to think about:
In Matthew 6:24, the Bible says "No one can serve two masters. Either he will hate the one and love the other, or he will be devoted to the one and despise the other. You cannot serve both God and Money." We always think that this verse relates to having lots or money, that it only concerns the wealthy or those seeking wealth, but it can pertain to the poor and those in debt, too.
Be careful. What controls your waking thoughts? God or money? What do you seek after more? God or a way to pay your debts? What do you talk about more with your family? God or how the bills are piling up "in these hard economic times"? Do you spend all of your money eating out, playing a game of golf, buying your kids sports uniforms and dance lessons and having your nails done or do you first tithe?
I have found most people give their money to whoever or whatever has their heart and soul. I don't say these things to condemn you but to get you thinking, "Do I have things mixed up? Can I do something differently? Do I need to change something, even if it is something small?"
We guard our families in so many areas. Don't let Satan sneak in the back door with this and destroy you, your family and your testimony.
Read Part 1 – Debt Free Living
Read part 2- Debt Free Living-God Provides
Would you like to serve food that will lower your grocery bill and your family will love to eat?
Click here to get the Dining On A Dime Cookbook, with tasty recipes and great tips to make your life easier and save you money!