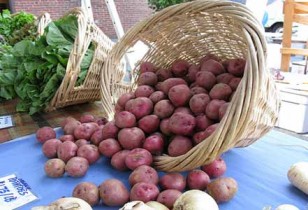 Crockpots are life savers. Here is a crockpot recipe you might enjoy.
Take any meat you had left over from the night before, add a salad and this great potato side dish and you have a quick and easy meal.
Mushroom Potatoes
7 medium potatoes, peeled, thin sliced
1 medium onion, sliced
4 cloves garlic, minced
2 green onions, chopped
1 (8 oz.) can mushroom pieces, drained
1/4 cup flour
2 tsp. salt
1/2 tsp. pepper
1/4 cup butter or margarine cubed
1 (10 3/4 oz.) can cream of mushroom soup
1 cup Colby-Monterey Jack cheese, grated
In a crockpot, layer 1/2 of potatoes, onions, garlic, mushrooms, flour, salt, pepper and margarine.
Layer with other half and top with soup. Cover and cook on low for 6-8 hours or until potatoes are tender. Sprinkle with cheese the last 30 minutes of cooking time.
Photo By: rfduck