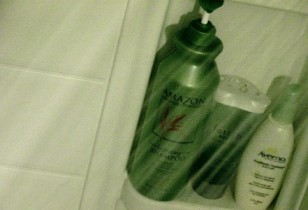 Mix a half cup of salt, sugar or cornmeal and a half cup vegetable oil. Stir and rub into skin.The graininess exfoliates the dead skin cells and the oil softens skin.
Bubble Bath keeps a ring from forming in the tub. If you're out of bubble bath, put a squirt of shampoo in the tub instead.
Use Shampoo as shower gel. Many of them smell wonderful (I love coconut.) and cost 1/2 the price.
photo by: in2thewoodz9