If you're wondering why you would want to be an affiliate, here's why: You can make half of the sale price for our products without having to create your own product. Once you set up your affiliate account with ClickBank, you can list our products using the code you get at ClickBank and then collect half of the sales when people click on the link at your web site and later buy our products. You can also include links in e-mail or newsletters to recommend the products to your friends.
Why do we offer 50% to affiliates? Even though we "give" away half of the sale price, it is helpful to us when more people are selling our products. After all, you have contact with lots of people we might never come into contact with so it is worth paying half of the profits to people like you so that we can reach out to a larger group of customers who might find our products valuable.
How Do I Set It Up?
First, you'll need a Clickbank Account.
If you don't currently have a Clickbank account, no problem! Sign up for a Clickbank Account here.
When you click the sign up link, Clickbank asks you to fill out the form (shown below) to start a ClickBank account. This account is like a "piggy bank" where your money is kept until ClickBank sends out your check. We have had new affiliates ask why ClickBank needs the information requested in the form. In order to make sure that you get your commission for items you refer and in order for ClickBank to send you checks, they must know where to send the checks and how to reach you if there is a problem.
ClickBank does not sell your contact information and they do not contact you, except about your account.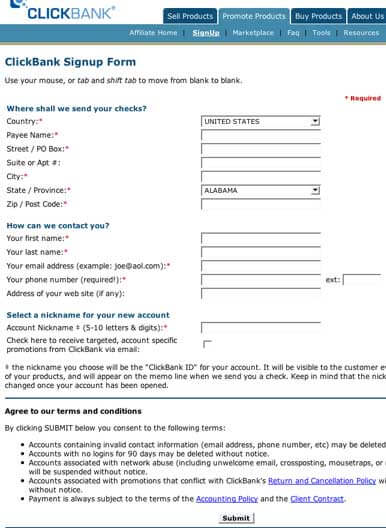 Once you've signed up for a ClickBank account, you will have an account "nickname" from ClickBank.
Now grab your Clickbank ID and go to:
https://www.livingonadime.com/affiliate_signup.html
To join our affiliate program, simply fill out the short signup form, including your Clickbank ID. When you sign up, be sure that you use a different password for our site than you use at Clickbank.
When you sign up using this affiliate system, you will be able to link directly to individual promotions, track your affiliate sales, get graphics, links and sale copy and more!
Using this code will insure that you get credit for the referral so you get paid.
If you have any questions about our affiliate program, contact us here.