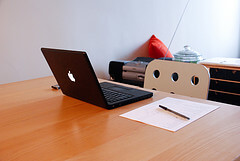 If You Want to Work at Home, Be Creative!
You want to stay home with your children but due to circumstances beyond your control you are their sole support. What jobs can you do and still be at home for the kids? There are many magazines out there that have lists of stay at home jobs but they don't seem to work out for a lot of individuals. I don't think they work for two reasons:
First, many people haven't really made up their minds that their children's emotional and spiritual needs are greater than their children's material wants. Being present in your children's lives is more important than buying them things. When I made up my mind that the most important and best thing for my children was for me to be there for them, that became my main goal. Then when a job came along, I didn't consider the best job the one that paid the most, but the one that gave me the most time with my kids.
The second reason moms have trouble finding things that allow them to stay home is that each individual's circumstances, gifts or talents and needs vary so greatly. It is difficult for anyone to suggest a handful of solutions that will work for everyone.
For example, at one point I was working at a very well paying receptionist job. When my daughter had a long term knee injury, I had to leave that job for a job that paid less because it left me free to pick her up at all different times of day. Another time when both my children were seriously ill and I couldn't leave them at all, I stayed home and ironed clothes for other people.
I became like any Olympic skater or swimmer, trying to achieve my goal. I got up early and worked long, hard days. I sacrificed much to obtain my goal. I overcame my natural shyness and told everyone I met that I ironed, baked cookies, or whatever they needed. I even built piano parts. Before we divorced my husband and I manufactured player pianos afterward I took over the business. I did that in order to find the work that I needed to obtain my goal, which was to be there for my kids.
If you are stumped at what kinds of jobs or things you can do to stay at home and earn money here are a few suggestions:
Think about things that are a little out of the ordinary. Don't do crafts!! You usually spend more time, money and energy than you will ever earn. That's why they call them "starving" artists.
Try to think of needs that people need fulfilled. I did ironing and found out that I made more money doing that than I did as a receptionist. To set the price I just called the local cleaners and asked what they charged. I just charged slightly less. Then I told everyone that I was doing ironing and it was a smoke-free home. Yes, even the cashiers at the grocery store!
At one point I had a women who brought me her groceries, disposable pans and her favorite recipes. I cooked 15-20 of her favorite meals and she would store them in her freezer for the month. If you have excessive garden produce, sell it to the restaurants in your area. You can grow herbs very easily and restaurants love fresh herbs.
Don't limit yourself to working "at home" if you can do something that fits your need to be "at home". Don't be afraid to ask for what you want. If you would love to work in the school cafeteria because the work has the same hours that your children are in school, don't be afraid to ask if there is an opening. If you can sew, inquire at decorating shops. A lot of times they need seamstresses who can do basic sewing to work flexible part time hours. A lot of businesses need someone to run errands and you can often adapt their hours to your needs.
If you're thinking, "but I have a degree," consider that if your degree is not providing you with a job that allows you to be at home with your kids, you should throw it out the window and stop using it as an excuse for not finding the right job. Remember your education, high standard of living and material things are not what are important here — raising your children is the important thing.

JIll
photo by: Eric__I_E