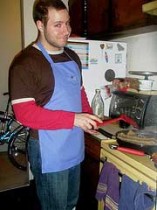 I know I harp all the time about the fact that that it's all in the attitude so forgive me for mentioning it one more time. The story below was just too funny not to post it for you all to read!
A woman was asked how her daughter and new husband were doing. She answered, "Just wonderful! She has the sweetest husband. He helps with the dishes, does the laundry and vacuums for her."
The first woman said "How nice! …And how are your son and his wife doing?" 
The other woman answered "His life is so much more difficult. He has the laziest wife. He has to help her with the dishes, do the laundry and even has to vacuum for her."
I thought all of you daughters in law and mothers in law would find this very amusing.



Jill
Photo By: Heather Harvey