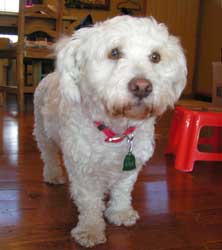 Buster (my granddog) had another itching attack last night. Some of you who have been visiting LivingOnADime.com for a while probably already know about Buster and his itching problems.
Well, after an hour with him laying on the bed next to me scratching and chewing, then chewing and scratching, I remembered Tawra saying the vet told her to give him some Benadryl. Thank goodness I had some but then the question was how much do you give a small dog? I decided that a quarter teaspoon couldn't hurt anybody, even a small dog, and gave it to him.
Finally it kicked in and I fell asleep (no, I didn't take Benadryl, too). I woke up two hours later, got up, went to the bathroom and came back. Halfway back, I noticed Buster hadn't followed me into the bathroom as usual. Concerned I ran into the bedroom.
There he was, spread out on the floor not moving a muscle. I came unglued. I don't do well in emergencies. I just knew I had killed him by overdosing him on Benadryl. I started frantically shaking him and calling "Buster, Buster wake up". He wouldn't wake up. I was so scared.
Then I looked down and noticed that there was one eye open looking at me as if to say "Lady what is your problem, It's the middle of the night and you should be sleeping". Then he rolled over, stretched and went back to sleep.
I, on the other hand, was now wide awake. Hours later, I finally dozed, only to be awakened with a good morning lick. I opened one eye, looked at him and said, "Buster, I'm so glad you are alive". 🙂 🙂
What a nice way to wake up each morning: turning to someone you love; a spouse, child or even yourself and telling them, "I'm so glad you are alive". We all make the mistake of taking those we love for granted sometimes don't we?
In my hurried and hectic days, God needs to remind me that no matter how bad things are and how busy I get, I do need to make sure I don't take those I love for granted.
      -Jill