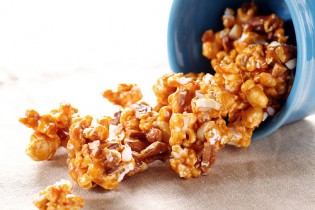 Below are some great snacks for any holiday party, football get together or just curled up on the couch watching TV.
Sugar and Spice and Everything Nice Popcorn
1/4 cup butter
1 Tbsp. brown sugar
1 tsp. cinnamon
1 tsp. nutmeg
1/4 cup walnuts
1/4 cup peanuts
8 cups of popped corn
In a microwave container, melt butter and add sugar and spices. Add nuts and coat well. In a large bowl place popped corn and pour in butter and nut mix, tossing to coat everything well.
Here is another caramel corn recipe that is so yummy too.
Sharon's Caramel Corn
1 cup brown sugar
1 stick butter
1/3 cup light Karo syrup
1/2 tsp. soda
3 bags (popped) popcorn, kernels removed (I use Orville Redenbacher Smart Pop) 
 
Combine top three ingredients in a pan and cook at low heat on stove until it starts to bubble.  Stir occasionally.   Spray large paper bag with Pam and put popped popcorn inside.  When the caramel in pan start boiling add baking soda and stir (make sure sugar isn't grainy before adding baking soda.  Pour over pop corn  and stir to mix it together a bit.
 
Fold top of bag down and cook  in microwave 1 Min.
Shake vigorously (I have to  think this is good exercise for arms and possibly justifies eating aq bit when your done:-)
Cook 1 minute, Shake Vigorously
Cook 20 seconds, Shake Vigorously
Cook 20 seconds, Shake  Vigorously
 
Pour in bowl and stir until it cools to keep mixture from clumping.
 
I turn the bag upside down every other time to better distribute the heat.  You need to have large microwave and bag needs to be turning around.  Some people add nuts, M&M's etc. before cooking, but I never have — why mess with perfection 🙂
For more quick and easy recipes like this, check out our Dining On A Dime Cookbook!
Photo By: little blue hen