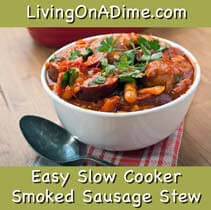 Save Time & Money Using Your Slow Cooker
by Tracy Roberts
MomsinABlog.com
When you're busy focusing on important projects during the day the last thing you want to have to think about is what's for dinner. Taking a little time to plan ahead and using your slow cooker, you can create wonderful home cooked meals for your family that are tasty and inexpensive.
Using the slow cooker on days when I know I'm going to be rushed to try to fit cooking a nutritious, home cooked meal into my day saves me from serving peanut butter and jelly sandwiches for dinner. I'm spared the stress of having to figure out what to cook for dinner and the guilt of serving something less than nutritious for my family – like a run through the drive through at the local fast food joint. Plus I save money when I don't go out to eat!
For me, planning ahead includes creating a weekly menu of meals before I head off to the grocery store. This not only helps me know exactly what I'm going to be cooking for each meal, it helps me save on groceries so I'm not buying unnecessary items. I also like to check the store ads and incorporate items that are on sale into my weekly planning to save more money.
Here's a tasty recipe that averages about $2.10 per serving. Watching the ads and shopping sales, you could make this meal for quite a bit less, buying items when they go on sale.
Smoked Sausage Stew Recipe
Ingredients:
2 slices bacon
2 cups chopped onion
3 garlic cloves, minced
1 tsp. dried thyme
1/2 tsp. dried rosemary
1/2 tsp. salt
1/2 tsp. freshly ground black pepper
2 (14.5-ounce) cans diced tomatoes, drained
2 (15-ounce) cans Great Northern beans, rinsed and drained
1 lb. lean boneless pork loin roast, trimmed and cut into 1-inch cubes
1/2 lb. smoked sausage, cut into 1/2-inch cubes
8 tsp. finely shredded fresh Parmesan cheese
Directions:
Cook bacon in a large skillet over medium heat until crisp. Remove bacon from pan leaving drippings. Add onion, garlic thyme, rosemary, and garlic to pan and sauté until tender, about 4 minutes. Stir in crumbled bacon, salt, pepper, and tomatoes and bring to a boil. Remove from heat.
Place half of beans in a large bowl and mash with a potato masher until chunky. Add to 4-6 quart slow cooker. Add remaining half of beans, pork, sausage and tomato mixture and stir well.
Cover and cook on low setting for 6-8 hours.
Ladle into bowls and sprinkle with Parmesan cheese to serve.
Serves 8.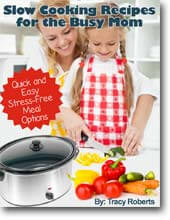 Busy moms need all the help they can get caring for their families, so I've come up with a new ebook called Slow Cooking Recipes for the Busy Mom: Quick & Easy Stress-Free Meal Options. This ebook is full of 28 mouthwatering slow cooker recipes along with 4 weekly grocery shopping lists to help you save time and money shopping as well.
You can get it for just $5, so if you need quick and easy slow cooker meals for this month, learn more here.