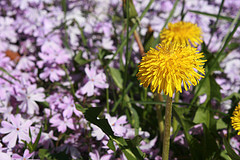 Quote of the Day — Weeds
Beauty really is in the eyes of the beholder. For many years I could not understand why everyone else didn't appreciate all those pretty yellow flowers (dandelions) and that strange purple flower that always grew in my yard. They added a little bright color to my poor balding yard which, most of the time, had more dirt than grass in it. 
Alas it seems only my grandchildren and I appreciate their true beauty.
I have tried to look at my yard with more grown up eyes and I try each year make my yard look magazine perfect but, to my daughter's dismay, I usually fail and fail badly, so I dedicate today's quote to her:
A weed is a plant that has mastered every survival skill except to grow in rows. : ) : )
      -Jill
Yes, but don't forget, A weed is a flower out of place.

      -Tawra