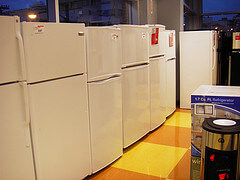 A Reader Saves Money Paying Cash for a Refrigerator!
Hi Tawra and Jill,

Our "ancient but gets the job done" 23 year old refrigerator needed to be replaced, so I went on a quest to find a new one. First of all, I wasn't about to finance the purchase of an appliance. So, I saved the money for a whole year to be able to pay cash for a decent one. Our old one still worked, it was just old. As you always say, if it's still functional, the "bank of mom" will not finance a new one! I did a lot of research and found the model I liked at a Lowe's – a nice double door one that has a water and ice dispenser, which I have never owned but always wanted to have.

I found a brand new, but discontinued floor model marked down to $743. They were running a promotion where delivery (normally $65) was given back to me in the form of a rebate check, so I submitted the paperwork to get that back today. Also, our local utility company has a rebate program for upgrading to an energy saver fridge, so we get another $50 back!! Lowe's also took away the old fridge.

It was such a good feeling to go into the store, pay for it, take it home and know I own it free and clear!

The new fridge is brand new, clean, well designed and has a lot of space, so I have a better overview of what food I have so I can plan meals and not waste food. With the old fridge, the temperature gauge was dodgy and would spoil a lot of the vegetables (lots of frozen lettuce), and stuff would get pushed to the back, so we would forget it was there and also spoil.

I am so excited about this good deal.

-Kathy
Tawra: That's great, Kathy! Way to go!
For those of you who have never considered it, Kathy also saved money by NOT financing the fridge. Many places like Lowe's offer "Same as Cash" financing where you can take it home now and pay for it within 90 days or a year with no interest. The trick with this kind of financing is that most people do not pay it off in the allotted time and according to the contract, if the balance is not paid IN FULL by that date, the buyer is charged interest on the entire balance all the way back to the date of sale (usually at a rate over 21%). if you bought the fridge that Kathy bought and paid one year interest at 21%, you'd pay $156 in interest the first year on the $743. In essence, for people like this, it was never a no interest transaction.
When purchasing anything, we strongly recommend what Kathy did. It takes self-discipline to wait until you have saved the money to replace or purchase an item, but paying cash will save you money and as Kathy expressed, it is a great feeling to own it in the clear from day one.
One other thing to consider is that when you wait to save the money, you have motivation to try harder saving the money for that goal. If you wait to save the money, you don't get the reward until AFTER you've done the work. When you finance an item, there is the temptation to spend more because instead of thinking of the cost as $1000, people often think of it as "$25 a month." Also, when you receive the bill with a minimum payment, there is the temptation to pay the minimum payment and use your money to buy something else rather than pay off the item. This can get very expensive.
Great Job, Kathy! I'm proud of you!!
-Tawra
photo by: squeakymarmot