Living On A Dime's
Mother's Day Crazy Book Sale!
It's almost Mother's Day again and we have a special offer for you!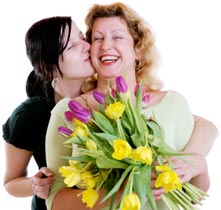 Whether you need to cut your food bills, save money around the house or just make quick and delicious home cooked meals, Dining On A Dime and Quick And Easy Menus On A Dime print books can help you save money and make your life easier!
If you haven't gotten your own copy of Dining On A Dime, this is your opportunity to get it at a great Mother's Day Sale price! We will show you how to prepare quick and easy recipes made with simple ingredients your family will love that will ALSO save you money! (Without cutting coupons!) Dining On A Dime will also give you lots of laughs while you do it! Most people save more than the price of the book after just one or two meals.
If you already have a copy of Dining On A Dime, this is a good time to think about gifts for the coming year!
Who do you know who would benefit if they were able to save money on food while eating delicious and super easy home cooked meals? Whether they're beginning cooks or cookbook collectors, they will love Dining On a Dime! These books make great gifts for Mother's Day, wedding showers, graduations, college students, bachelors, new moms, "plan ahead" Christmas gifts and of course, birthdays!
Give the gift of financial independence! These Living On A Dime print books will help your friends and family make their money go further, eat delicious meals and reduce stress.
"I am completely and absolutely in love with your book 'Dining on a Dime'. It's a resource that's invaluable to me as a Newlywed. I relocated with my husband shortly after we got married and going from 2 incomes to 1 was a complete shock. This book has transformed me, literally into a chef. I love cooking – it's NOT daunting, my grocery bills are NOT scary, and I've become so great at budget meals and bargains that I have countless friends and family members requesting tips, hints and recipes from me."

"I absolutely love this book and recommend it to everyone! Thank you SO much for this amazing resource." -Danielle
So here's our very special offer, good only until April 3 or when supplies run out!
Buy Our Dining On A Dime Cookbook and get Quick And Easy Menus On A Dime FREE!
(While supplies last! We only have 300 copies of Quick And Easy left!)
Order our Dining On A Dime Cookbook print book and get our 165 page book of quick and easy meal plans FREE!
Free Bonuses For Every Order!
As an added bonus, we'll also throw in these downloads with any Mother's Day Sale order, valued at $112.88, but free with this special Mother's Day Sale offer:
"98 Popcorn Recipes" e-book
"Cheesecake Recipes" e-book
"Cooking Chinese Style" e-book
And the Following Creative Homemaking e-books from Rachel Paxton at CreativeHomemaking.com
Soups & Chowders
Crock Pot Recipes
Muffin Recipes
Cake Recipes
Jello Salad Recipes
Quick Bread Recipes
Zucchini Recipes
The Beginner's Guide to Preserving

Make Pizza at Home
Mexican Cooking
Healthy Breakfast Smoothies
4 Holiday E-Books
50 Budget Kitchen Decorating Ideas
Make-it-Yourself Hair & Skin Care Products
Make-it-Yourself Household Cleaning Products
Party Games and Activities for Kids
You'll receive a link to these bonus items when you place your order for one or more of our mother's day deals, so you can enjoy those resources right away. And then, about a week later, you'll receive the print book package in the mail, with your print books ready to bless YOUR friends and family!
This Special Print Book Sale offer is only good until Monday, April 3rd
(or when we run our of Quick And Easy books) so grab it now!
---

Your order is secure with our secure payment processor, Stripe.
Dining On A Dime Cookbook with FREE Quick And Easy Menus On A Dime!
Get our Dining On A Dime Print Cookbook and get our 165 page Quick And Easy Menus On A Dime FREE, along with the free bonus downloads!
Sale! $21.95
Print Book Set

(International orders: Shipping is Set for Canada ($15 USD), UK and Ireland ($21) and Australia ($22) so you should be able to order directly. If you'd like to order more than one set or are in another country, please contact us for a shipping quote.)
---

Your order is secure with our secure payment processor.

100% Satisfaction Guarantee!!!!!
If you are not satisfied for any reason, we will give you your money back up to 60 days after purchase.
When you order, please double check your shipping address. If your shipping address is incorrect on your order, additional shipping charges will apply (minimum of $5.00). If you order using your Paypal account, please make sure that your shipping address is correct on your Paypal account.
To order by check or money order in U.S. Dollars, please send payment, postmarked by April 4th, including shipping to:
Living On A Dime
P.O. Box 193
Mead, CO 80542
Please indicate the number of copies that you wish to purchase and include your complete mailing address, email address and telephone number. (in case we have problems with your order. We do not sell, give or trade your contact information to anyone.) Also, please tell us how you heard about this sale.
Be sure to add shipping charges in your payment to prevent delays to your order.
100% Satisfaction Guarantee!!!!!
We're so sure you're going to like it, we offer a No Questions Asked, 60-day Money-Back Guarantee!
That's right, we are giving you a full 60 days to evaluate these books. If at any point over the course of the next 60 days you are not satisfied with your investment, just let us know and we'll refund your money-all of it. We will even pay the return shipping.
If you have a question about ordering our products, contact us here.