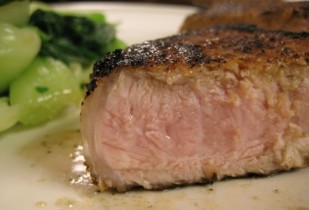 Menu:
So Da lious Pork Chop
Country Fried Potatoes
Cooked Carrots
Caesar Salad
Fresh Bread, Butter and Jam
Instant Peach Cobbler
Recipes:
So Da lious Pork Chops
6-8 pork chops
1 cup ketchup
1 cup coke
Brown pork chops and place in a greased baking dish. Mix ketchup and coke and pour over chops. Cover and bake at 375° for 45 minutes.
Instant Peach Cobbler
Filling
1/4 cup butter, melted
1 can peach pie filling (or any other fruit filling)
In a greased casserole dish, mix butter and pie filling.
Topping
1 can refrigerator biscuits, cut in fourths
1/4 cup butter, melted
1/2 cup sugar
1 tsp. cinnamon
Mix sugar and cinnamon. Dip biscuits into melted butter and then into the sugar mix. Place them on top of fruit filling. Bake at 400° about 15-20 minutes until biscuits are brown.
Photo by: VirtualErn