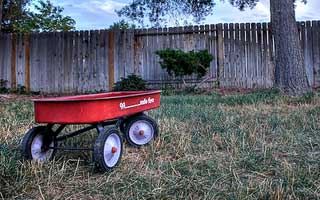 Here's a post I thought you might enjoy again that I wrote a few years back.
It's not that I'm bored or that I don't have a ton of work I should be doing, that would inspire me to write this but Tawra is bringing my new grand baby over for me to watch for a bit. I thought about taking him for a walk but I don't have his stroller yet and then I remembered my little red wagon.
I'll plop him, car seat and all into my little red wagon and we can go for a stroll but, while I am waiting, I thought I would write my story below. It is dedicated to those everyday things in our lives that we use over and over, that are always there for us but we tend to overlook and take for granted. (No, I'm not talking about your husband. : ) : )
Me and My Little Red Wagon
I have a little red wagon. I can't remember my life without it. When I was young I would pile my baby dolls and stuffed animals in it and pull them to and fro. As I got older my brother would stick me in the little red wagon with the handle bent back so I could steer and he would precariously push me up and down the sidewalk as fast as he could while I frantically tried to keep us from falling off the curb and killing ourselves.
The years went by and I traded my little red wagon for a VW bug and, much to my father's dismay, I drove it about like I did my little red wagon, still having problems staying away from the curbs. But time marched on, I married and my husband used the VW bug and I went back to my faithful red wagon.
It hauled diapers to the laundromat when I had no machine to wash them and once again it hauled my "babies" to and fro. I would put my toddler and newborn in my little red wagon and pull them a mile through town to take my husband his lunch or to go to the post office.
My babies grew older and soon they were frantically pushing each other up and down the sidewalk in my little red wagon. It was their first driving lesson but, again, it was put aside for a VW bug (There isn't a lot of variety in my family).
The kids grew up, left home and it was me and my little red wagon once more. It hauled topsoil, bricks, rocks and weeds, piano parts and boards. When I moved, it would haul boxes for me that were 5 times its size and weight, yet it never once gave up under the load. Soon my little red wagon and I had come full cycle and it was once again hauling my "babies" for me– Grandbabies this time.
We may look a little different– my hair is grey and he has a little rust on the sides. We are both sagging in spots and creaking all over. It has been a long and sometimes hard haul and even though we are moving slower, the sun is still shining and God has blessed us with yet one more healthy happy baby to haul to and fro. Does life get any better?
Jill (and my red flyer wagon)
Photo By: Ken Wilcox