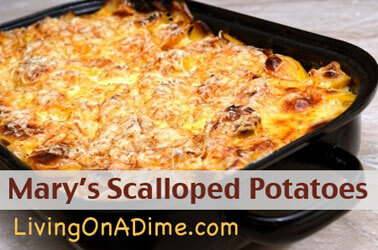 This delicious Scalloped Potatoes Recipe from my sister in law, Mary, is a family favorite at all of our family get-togethers! It's easy to make and your family will love it!
Mary's Scalloped Potatoes Recipe
Potatoes
3 Tbsp. melted butter
3 Tbsp. flour
4 cups milk
Salt and pepper – You can salt and pepper to taste. I start with 1 tsp., taste and then add another tsp. if needed. The potatoes will take a lot.
Several slices of American cheese*
Grease a 9×13 pan well. Peel and thin slice enough potatoes to layer in the pan to an inch from the top. Layer slices of American cheese on top of the potatoes. Pour the milk into a sauce pan. Mix butter and flour and add to milk, whisking, making a white sauce. Keep whisking. The lumps will dissolve as the milk heats up. Add salt and several more slices of American cheese. Pour over the potatoes. Cover with foil and bake at 350 degrees for 45 minutes or until potatoes are tender. Remove foil and bake uncovered a few more minutes until lightly brown on top.
*You can use grated cheddar cheese for this scalloped potatoes recipe but American melts better and gives a creamier texture.
For more quick and easy recipes like this, check out our Dining On A Dime Cookbook!