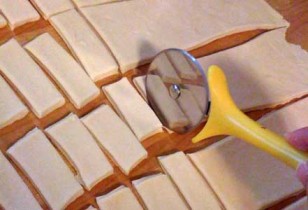 One of our favorite tools in the kitchen is our pizza cutter. Here are some ideas to use that pizza cutter to make life easier!
Cut homemade noodles
Cut French toast into sticks or small pieces
Cut pancakes and waffles
Cut brownies
Corn bread
Fruit roll-ups (may have to oil lightly)
Hot dogs, link sausages
After a while, our pizza cutter wasn't cutting so well. I realized it had been 10 years since I had bought a new one. Make sure you get a new sharp pizza cutter and that will make all the difference!
-Tawra
Photo By: citymama