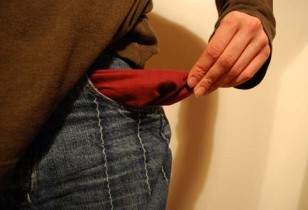 Here is a quote I read the other day by an unknown author: The trouble with most of us is that our necessities are too luxurious and our luxuries are too necessary.
It might take a moment for that to sink in but hopefully you will get the meaning. For years, I have said the only way to get out of debt is to just stop spending. That is still true but I have started seeing that people not only need to stop spending excessively but they need to start looking differently at the way they spend and examining what they spend their money on.
Let's look at 3 different people buying a baby gym, which is that big toy the baby lays under and spends time looking at the things hanging from it.
A couple finds one for $20 at a garage sale. These same people are deep in debt but they feel a baby gym is a necessity for their baby's happiness. They are so excited because they think it is a good deal (since it usually sells for $50) and buy it right up.
My daughter Tawra decides she needs a baby gym but makes up her mind she will not spend more than $5 on one and finally finds one for $3 at a thrift store. Not too bad.
I decide my grandbaby needs a baby gym at my house, too, so I lay him on the floor and place 2 dining room chairs, one on each side of him with a broom stretched across the seats of the chairs. I then tie toys and odds and ends on the broom handle for him to lay and look at. It cost me nothing but about 2 minutes setting it up.
This shows different levels of thinking about money. Nothing is a good deal if you are in debt. You shouldn't be spending at all and you need to be trying to figure out how you can make do with what you have.
With the first couple, yes that was a good deal compared to what they usually spend, but they really haven't gotten their minds wrapped around what it means to truly not spend and are fooling themselves into thinking they are doing really well with their money, thus ridding themselves of any guilty feelings. 

The second example (Tawra) shows someone who isn't in debt and can afford to buy a few things but is a wise enough steward to know the best way to stay out of debt is to spend some money but to do it wisely and with control.
The third example (me) is someone who has had to make do for so long now it just is a way of life. Yes, a baby gym is nice but I know in a few weeks the baby will be crawling and will no longer need it. My income is small enough and I have other things I really need to spend it on so I don't buy one at all.
Here's another example of warped thinking I saw yesterday on TV. The title of the show was, "Fill Your Freezer for Less." It naturally caught my attention because I thought they would give some good ideas on saving on food for your freezer. You can imagine how it blew my mind when they said, "Today you can get 6 lobster tails for only $100. You'll be saving $50. Isn't that a great deal in these hard economic times." The even scarier part was that they sold out of them and other similar items very quickly.
It's not just that we need to stop spending but in order to do that there needs to be a drastic change in the way we think and look at money and things.
      -Jill
Photo By: stuartpilbrow