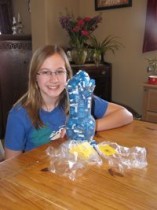 Elly and her floss collection
My daughter has this thing for collecting little things. She collects it all. She just likes to collect things– from Chapstick to hair bands and now, dental floss. It was so funny. The other day she needed floss.
We happened to stop by the thrift store on the way to the store before going to pick some up. What did they have? Dental floss, lots and lots of little boxes of floss. You know– the samples you get from the dentist. She was so excited. It was about 2/3 the price per yard compared to buying it new at the store– not a great deal but not bad either. So we picked up all three bags of dental floss and brought them home.
I wondered, "What are we going to do with this many little containers of floss? Where do you store them?" Then it hit me– a vase! So we dumped as many as we could into a vase and now it sits on the bathroom counter. Now, they have no excuse not to floss!
-Tawra
For more money saving tips and ideas check out Dining On A Dime.