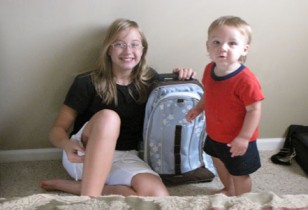 Every year when we start running our Back to School Savings articles I get a lot of readers who say how great it is that if you buy a Land's End backpack it is guaranteed for life.
They tell how their kids got the backpack in kindergarden and used it until college. I have to say I was IMPRESSED so when Elly found a rolling one at a garage sale for $3 we grabbed it up.
After using it for 2 months the zipper broke so I decided to take them up on their offer and get an exchange. I about passed out when I found out it was going to cost me $13 to ship it back! Now normally I would have just trashed it and moved on but she just LOVED this backpack so I went ahead and sent it in against every frugal bone in my screaming body.
I partly sent it in just to show the kids that you should take companies up on the guarantees and she was so excited about the backpack that I couldn't break her heart on this one.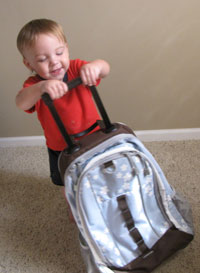 Jack loves big sister's backpack, too!
I have to say I was very impressed that in 10 days Land's End sent her a new backpack. But…(you knew it was coming) I would say this was far from a good deal since I can get a nice backpack for $16 or less at Walmart this time of year easy.
Now, having said that if you buy their backpacks in the store you can return them there and get an exchange without paying the shipping but you do have to have a receipt.
Still is it worth $60 for a backpack? In my opinion, no, it's not. I see backpacks in good condition at the thrift store all the time for .99-$2.98. I could make it their entire 12 years of school for less then the shipping cost even if I had to buy a new one every year.
While I am very impressed with Land's End customer service and I LOVE their clothes, I still wouldn't pay $60 for a backpack
Tawra
I maybe way off base but do the kids always absolutely have to have a back pack? I remember when my last grandson started school. He carried this huge backpack for the first couple of years and the only thing that was in it was a couple of papers and sometimes a library book. Even when I was in high school I had 8 classes and carried most of my books, paper, pens etc. with me all the time. Am I missing something here?
Jill