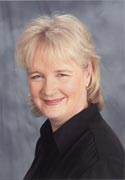 I was gathering up some things for the site the other day and came across one of my old diaries. I read a couple of things to Tawra and she got a good laugh. We thought you might get a kick out of them too.
Here are some entries from the diaries of a poor (literally), crazy (it's just a matter of how you look at things) housewife (assembly worker, cleaning woman, dog groomer, Brownie cookie sales person, plant doctor, furniture mover, etc…).
This first diary entry is dedicated to all of you young moms out there who work long hours to get your house sparkling clean, turn to answer the phone and discover when you turn back around that it looks like a Kansas tornado has torn through your house only to realize that it was just the kids coming in from outside.
To set the stage. At this point in my life, I had a large white kitchen floor I had to clean by getting down on my hands and knees. (I know– That was my first mistake. Who has a white kitchen floor with kids?) To make it more fun I had a mud driveway with the door leading directly into the kitchen and that was the door everyone used to come in the house.
January 1, 1980
I gave the house an extra good cleaning including going through the kids' drawers, mopping the kitchen floor, etc. I finished putting away the Christmas decorations. Did two loads of laundry. Got everything all finished and the neighborhood kids and my kids came running through the kitchen tracking mud everywhere.
When I tracked them down (following the muddy foot prints), they were all having a free for all jumping on the beds. I could have choked them all. I made Tawra sweep up the mud she had tracked in and David sweep off the porch. After supper, I went through my new cookbook and did some sewing.
This next one is dedicated to young wives and moms so you will know that it takes years of practice to get organized (but don't plan on being totally organized until your last child leaves home!).
Feb. 19, 1980
Was talking to mama on the phone and the men arrived to put in my new carpet. I was still in my p.j.s and we hadn't moved any of the furniture out of the living room yet. Boy was I flustered. It was like grand Central Station. Delivery guys kept coming to the door, the phone kept ringing at the same time and to top it off I was babysitting Jason. David was really sick with a temperature of a 104 so he was home from school and I was worried about him. Tawra came home with all of her Brownie cookies to sell. It was a mess all day with 10 different things going on at once but my new carpet sure does look nice.
(Now you know how I learned it is best to always get dressed first thing in the morning.)
This next diary entry is dedicated to my sweet daughter that I love so much. I am always trying to encourage new moms to not give up on your children– that if you keep training them they will finally get it. Hmm. Sometimes I lie???? As you read this, keep in mind that BJ (Tawra's oldest) called me a few days ago and said, "Guess what Nan? Mom caught the stove on fire again." This is a weekly occurrence at their house. That is why they started having family fire drills when the kids turned two. 🙂 🙂 🙂
(Note from Tawra: "It's not weekly mother…maybe monthly, but not weekly!" 🙂
 Dec. 28, 1990
Put away Christmas decorations. Tawra and I both are feeling a little better today. Tawra tried frying egg rolls and started the stove on fire while I was talking on the phone to Jack (my brother) and had to hang up on him.
Last, but not least, this is dedicated to all of those of you who are deep in debt and live in fear daily. God does take care of us and I had faith He would. Take note how I wasn't the least bit worried about things in this next entry and you don't need to be either. Get up, keep going and do the best you can.
To set the stage. This was a summer when we kept having record breaking high temperatures. Even to this day, many of our record temperatures were set that summer.
July 20, 1984
Hot again. Was up early and got quite a bit done. Worked on parts (piano parts) really hard all day. Out of money again. Down to $2. Sorted through recipes and coupons. Trimmed the dog.
 The Next Day
Woke up early but have a nice case of the stomach flu. Got a lot done anyway. Cleaned really good, doctored my plants, and worked on piano parts. So hot again. I had to finally break down and turn on the a/c because it was extra hot and, being so sick, I couldn't quite take the heat as well.
(I ended up getting enough money to pay for using the a/c that day.)
      -Jill