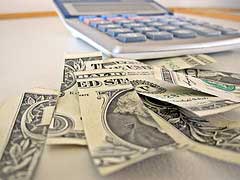 Here are some eye opening facts about tithing:
The average Christian spends 98% of their money on themselves and 2% on God.
If all Christians tithed, we could educate the whole world.
On average, we spend $2,000 a year on interest but can't tithe.
We expect 100% from God but what do we give Him?
Any mom or dad will tell you that something isn't a sacrifice when the object of our sacrifice is what we love. Read Luke 21 about the widow giving her all.
Offering – something given as a sign of devotion or sacrifice- most of us aren't giving our tithe let alone giving a sacrificially offering.
You can usually tell what a person loves by what he spends his money on.
-Jill
Photo By: Images_of_Money