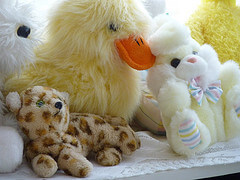 Useful Household Tips and Kids' Tips
Here are a few miscellaneous useful household and kids' tips from Dining on a Dime and our e books.
Clean the bathroom sink and toilet while the kids are taking a bath.
If you are late getting dinner started, set the table first. Then your kids and husband think dinner is on the way and they won't get impatient.
To help kids make their beds easier, buy sleeping bags to match the decor in their bedrooms. Then they only have to straighten the sleeping bag instead of a lot of blankets. Also, when they need a sleeping bag, they have one.
If stuffed animals are dirty, throw them in the washer on the gentle cycle. They come out looking great.
Make a box with each child's name on it. Put each child's clean laundry in the respective box and then have them put away their own laundry.
Photo By: di_the_huntress