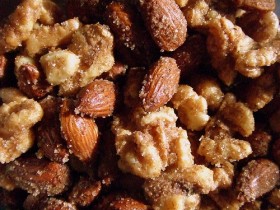 Homemade Spiced Walnuts and Soup Mixes
Thanks Lois! Tawra
FUN GIFTS TO MAKE ~ EASY ON THE BUDGET ~ GREAT TO RECEIVE!
By Lois Breneman, Heart to Heart Newsletter, jhbreneman@juno.com
SPICED WALNUTS
1 pound (4 cups) walnut halves or large pieces
2 tablespoons olive oil
2 1/2 teaspoons chili powder
2 tablespoons Worcestershire sauce
1/2 teaspoon onion powder
1/4 teaspoon freshly ground pepper
1/4 – 1/2 teaspoon coarse (kosher) salt
In a 3-1/2- or 4-quart slow cooker, combine all the ingredients except the salt. Stir to mix well. Cook, uncovered, on the high heat setting about 2 hours or until the nuts are toasted. Stir in the salt. Let cool. Store in an airtight container in the refrigerator for up to 6 weeks. Serve at room temperature. Makes 4 cups.
Note from Tawra: We have this recipe in Dining On A Dime. You can use any type of nuts that you like.
FIVE BEAN SOUP IN A JAR
(Layer the dried beans in a jar and tie the recipe to the jar)
1/2 cup dried black beans
1/2 cup small red chili beans
1/3 cup dried Great Northern beans
1/3 cup dried cranberry beans
1/3 cup dried pinto beans
1 Tbsp. olive oil
2 large onions, coarsely chopped
6 garlic cloves, minced
2 carrots, quartered lengthwise and thinly sliced crosswise
2 cups chopped ripe tomatoes or canned crushed tomatoes
1/2 cup finely chopped fresh basil (1/4 cup dried)
1 tsp. salt
Soak beans overnight in large bowl, with water covering the beans by 3 inches. Drain, rinse and set aside beans. In a large Dutch oven or casserole, heat oil over medium-low heat. Add onions and garlic. Cook, stirring frequently, about 7 minutes or until softened. Stir in carrots and cook, stirring frequently, about 5 minutes or until tender. Stir in tomatoes and basil, and cook 3 minutes. Add 8 cups water and beans and bring to a boil over medium heat, skimming any foam that rises to surface. Reduce heat, partially cover, and simmer, stirring occasionally, about 1 1/2 hours or until beans are tender. Stir salt into soup and ladle into warmed soup bowls. Serves 6.
FRIENDSHIP SOUP MIX IN A JAR
1/2 cup dry split peas
1/3 cup beef bouillon – low sodium
1/4 cup pearl barley
1/2 cup dry lentils
1/4 cup dried minced onion
2 tsp. Italian seasoning
1 cup uncooked long grain brown rice or macaroni
Additional Ingredients:
1 pound lean ground beef
3 quarts water
1 can diced tomatoes – (28 ounces) undrained
In a 1 -1/2-pint or 1 quart jar, layer the first seven ingredients in the order listed. Seal tightly. If ingredients do not come right up to the top of the jar, place a crumpled piece of plastic wrap on top of the last layer to keep layers from shifting. Yield: 1 batch. Store in a cool, dry place until ready to use.
To give as a gift, decorate jar as desired and attach the following directions:
To prepare soup: In a large saucepan or Dutch oven, brown beef and drain. Add water, tomatoes and soup mix, then bring to a boil. Reduce heat and cover. Simmer for 45 minutes. Stir and cover. Simmer for 15-20 minutes or until peas, lentils and barley are tender. 16 servings.
photo by: nirak