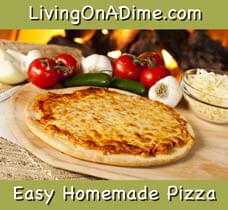 Easy Homemade Pizza Recipe And Tips
I'm doing something a little different from our usual menu today but hope it will be of help just the same. With football season in full swing and the kids bringing their friends home from school, I thought I might give you one homemade pizza recipe that will take care of your whole meal, including your dessert and a menu that young and old alike love.
Homemade pizza is so versatile and can be used for so many things. I especially like to make it to use leftovers. Don't be afraid. Read this recipe all the way through because our homemade pizza dough recipe is easy! It uses only a few everyday ingredients and we include methods to make it that are as easy as stirring up muffins. Even if you don't want to make your crust from scratch, read on because there are many good ideas for toppings and other things.
There are three pages in Dining on a Dime that deal with homemade pizza recipes and ideas. Here are a few of them:
If you have half of can of pineapple and a little bit of ham left, throw it on a crust with some cheese and you have a Hawaiian pizza.
Do you have a couple of hamburgers, hot dogs or pieces of chicken left from barbecuing? Then spread your homemade pizza crust with barbecue sauce, onions and cheese.
What about all of those garden veggies that you haven't figured out how to use? How about a Garden Vegetable Pizza? Use zucchini, diced tomatoes, mushrooms, onions and bell peppers.
Pull all of those containers filled with small amounts of meat out of the freezer and use them with some cheese for a meat lover's pizza.
You can even make a homemade pizza recipe if you don't have sauce. Just spread your crust with olive oil and minced garlic. Then top as usual. If you are out of pizza sauce and want to make your own, there are pizza sauce recipes in Dining on a Dime on pages 217 and 220.
I am including the recipe for our homemade pizza dough and crust from our cookbook. Before you panic and stop reading, thinking it will be too much work, read on a bit and see if you don't have a change of heart.
This recipe can be made several different ways using the same ingredients. Each one will give you a different type of crust so keep trying the different ways until you find which way your family prefers.
Method 1 – This first method is very fast and very easy. If you are a pizza gourmet, you may not want to go this direction but if you are a harassed mom who has to have dinner on the table in 20 minutes or less and have nothing in the house to eat, you will love this:
Mix the ingredients in the recipe below and knead about 10 times until smooth. Don't let it rise. Just pat it into your pan. Add toppings and bake. Or you can make the crust first and let it sit rising four or five minutes while you prepare the toppings for it.
Method 2 – Mix the ingredients in the recipe using the original method or modify method 1 above by pressing or rolling dough on to pan and brushing with olive oil. Bake at 425 degrees for 5 minutes. Remove from the oven and freeze. When you're ready to use it, you don't have to thaw it. Just bake at 425 degrees for 20 minutes.
Method 3 – Mix ingredients, knead, place in a greased bowl, cover, and put in the fridge overnight. Roll it out and then let it rise about 15 minutes. Then top and bake.
Homemade Pizza Dough Recipe
1 cup warm water (about 120 degrees)
1 pkg. or 1 Tbsp. yeast
1 Tbsp. sugar
1 tsp. salt
2 Tbsp. oil (olive oil is best, but you can use vegetable oil)
2 1/2 – 3 cups flour
Dissolve yeast in a bowl with warm water. Add sugar, salt, oil and spices (see below). Mix well. Gradually add flour to form stiff dough. Knead on a floured surface until smooth. Place in a greased bowl. Turn dough over to grease both sides. Cover and let rise until doubled. Makes 2 medium pizzas. Bake at 400 degrees for 15 minutes or until crust is brown.
Optional Spices to add to dough:
2 tsp. garlic, crushed
1 tsp. basil
1 tsp. thyme
1 tsp. oregano
Other Pizza Dough Uses
Breadsticks
Use a pizza cutter and cut the rolled out dough into breadsticks. Bake according to the recipe until brown. Then brush with melted butter with crushed garlic in it and sprinkle with Parmesan cheese. You can make one of the spaghetti or pizza sauce recipes from Dining on a Dime or use jar sauce to dip them in.
Dessert
Use a pizza cutter to cut as with the breadsticks but, before baking, roll in melted butter and a mix of cinnamon and sugar. When done, you could drizzle with vanilla icing or dip in applesauce.
For more easy homemade recipes like this easy homemade pizza recipe, check out our Dining On A Dime Cookbook!