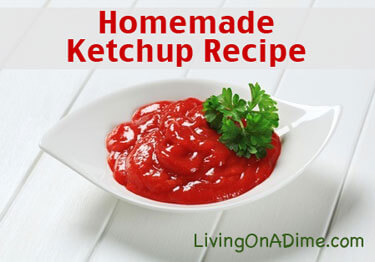 This easy homemade ketchup recipe is great to use to make homemade ketchup whether you have unexpectedly run out of catsup or you just want to save some money!
Easy Homemade Ketchup Recipe
1 (8 oz.) can tomato sauce
3 Tbsp. sugar
very small dash of cinnamon
1 Tbsp. plus 1 tsp. vinegar
Pour tomato sauce into a small saucepan and boil away some of the water until it begins to thicken. Add the sugar, cinnamon and vinegar. Simmer for 3 to 4 minutes longer. Refrigerate. Warning: Go easy on the cinnamon because it's easy to put in too much. Then every time you eat it you're thinking "cinnamon" instead of "ketchup."
For more quick and easy recipes like this to make your life easier, check out our Dining On A Dime Cookbook.