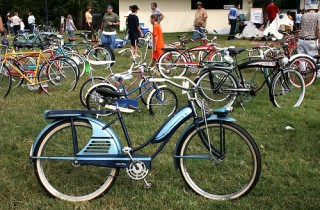 Frugal Presents – Beyond Reusing and Recycling
We were talking two weeks ago to my grandparents about birthday presents. We bought BJ a new bike for his birthday. He had outgrown his old one and I found a really nice one for cheap! That was his only present from us but he loves it.
My grandparents were saying that when my uncle was little my grandfather would repaint the bike, put on a new handle bar, new cushions and add something new like a bell. They then gave the same bike to my uncle and he thought he had a new bike every year!
They did this for several years! What a hoot! I have done some things sort of similar but not like that! I love it! 🙂
-Tawra
BTW, this was my mom's folks who are very frugal too.
photo by: ricoslounge