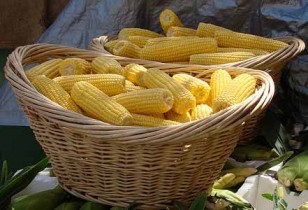 From: Sherry W.
I just read about you making frozen corn. I have a different recipe which is very easy. My mom gave this to me when I was first married, which was 30 year ago now.
Frozen Corn
8 cups corn, cut off the cob (You need to scrape the cob too.)
1 1/2 Tablespoons sugar
1 1/2 teaspoons salt
1 cube of margarine or butter
Add enough water so it won't stick. Cook about 8 – 10 minutes on stove. It will come to a boil. Let it cool. Put in containers and freeze.
I hope someone could use this recipe. It has worked for us at my house. It tastes like corn on the cob.
Photo By: Brian Giesen