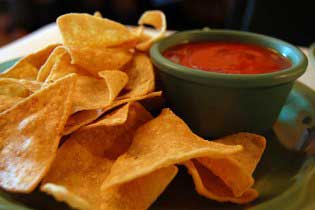 You can easily make your own tortilla chips for much less and they taste better too. It really isn't as hard as you would think.
Homemade Fried Tortilla Chips
corn tortillas
oil for frying
salt (optional)
Cut tortillas into wedges. Heat 1 inch of oil in a frying pan. Fry several wedges until crisp on both sides. Remove with slotted spoon and drain on paper towels. Sprinkle with salt if desired.
From Dining on a Dime
photo by: stuart_spivack