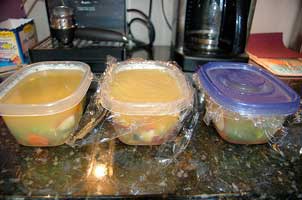 From: Monique
I would like to know how to control what is in my big freezer. When do you make an inventory of the stock you already have before you buy some more? Before each grocery day? Thank you very much for you answer. If only I was not the only one to open and close that door… It would be easier!
I just write it down on my shopping list on the fridge when something is gone. Now the kids are bigger Mike and them will write it down now too! They have learned if it's not on the list, it doesn't get purchased! 🙂
If you still can't get your family to write it down, I would just check each time before you shop.
Tawra
I would do a deep cleaning of my freezer about 3-4 times a year– not the freezer itself but what was in it. I would do this right before I start my Christmas baking (October), in the spring and right before garden or fresh produce are ready in the late summer.
Stock the new things toward the back or on the bottom so that the older items get used first. I know this is a pain, but needs to be done.
Be careful with freezers, especially the chest style ones. I have owned an upright and Tawra has one now. Unless you have a large family, live far from town, have a garden or something like that they really won't save you money unless you stay on top of them.
With chest style freezers, it is especially easy to lose things in the bottom and waste so much food from freezer burn, food getting old or the electricity going out.
One thing people don't realize is that even today's energy saver ones pull a lot of electricity so if you are running a freezer to hold 4 turkeys and 3 roasts you bought on sale and it is costing you $40 a month to run the freezer, you do the math. You aren't saving anything. I have a neighbor right now who runs her freezer all the time and who keeps nothing in it except 3-4 bags of ice.
I am not saying don't have a freezer just do the math and make sure it is paying for itself.
Jill
photo by: ilovebutter