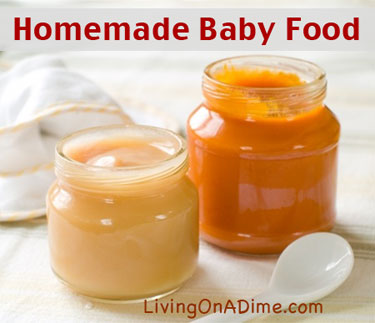 Easy Homemade Baby Food
I have to say, when I see a mom whose cart is just full of baby food at the store, I just cringe. Homemade baby food is one of the quickest, easiest and most inexpensive things you can make so why spend hundreds of dollars buying the little jars? I've had four kids and bought a total of about 20 jars of baby food. Most of those jars of baby food were for trips.
Here are a couple quick and easy ways to make baby food:
Steam vegetables or fruits in a small amount of water. You can start with peas, green beans, apples, peaches, pears or sweet potatoes.
For meats: boil in some water until tender. Chicken is a good meat to start with.
Cool. Puree with water or breast milk in a blender or food processor until smooth. I just use a hand blender and I have baby food in about 30 seconds. Just rinse off the blender and you're done!
Freeze the baby food puree in ice cube trays.
 When frozen, place your homemade baby food cubes in a freezer bag.  Take as many cubes as you need for a meal. Simply defrost and serve.
The Fast and Easy Homemade Baby Food Method
When I'm in a hurry, I just open a can of vegetables or fruit and puree it right in the can with my hand blender. It's quick and easy. I drain off some of the juice but not all of it. 
Of course, you can always just open a jar of applesauce and give it to them.
If you are on the go: You can store homemade baby food in small half cup containers that are easy to grab and run.
Using Food From You Dinner
You can always use leftovers from your dinner to make baby food, too.  Just puree and freeze it as above.
If the leftovers have seasonings on them, I just rinse them off before pureeing.  Tawra
Would you like to serve food that will lower your grocery bill and your family will love to eat?
Click here to get the Dining On A Dime Cookbook, with tasty recipes and great tips to make your life easier and save you money!