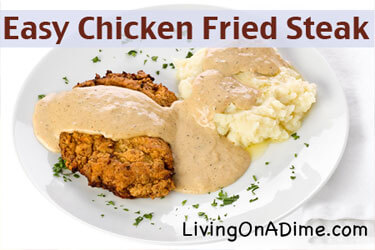 Menu and Easy Chicken Fried Steak Recipe
Tips:
If you burn yourself on a regular basis while cooking, keep a bottle of aloe or burn ointment in the kitchen. If you have limited space in your bathroom, think about keeping your first aid supplies in the kitchen (Things like band aids, ointments, tweezers etc.). Most of the time when someone gets hurt mom is in the kitchen or some place other than the bathroom, so it is handier to have first aid supplies close.

Note: Be sure that you keep medications where they won't fall in the sink if you knock them over.

Anyone who works in an office knows the best way to get a good start on the next day is to leave your desk organized that evening before you go home. The same goes at home. If you want a good start to your day, make sure your kitchen sink is empty, the counters are clear and the table is cleared off and wiped.
Menu:
Easy Chicken Fried Steak Recipe*
Baked Potato
Cottage Cheese Salad*
Relish Dish w/ green onions, radishes carrots and
     celery sticks
Texas Toast
Recipes:
This Chicken Fried Steak recipe is quick, easy and so delicious! It is one of our family favorites and your family is sure to love it, too!
Easy Chicken Fried Steak Recipe
1 lb. hamburger (You can use pre-made patties.)
1/4 cup milk, place in shallow bowl
1/4 -1/2 cup flour, place on plate
1 egg, whipped with fork and place in shallow bowl
1/2 -3/4 of a tube of crackers, crushed, place on plate
Form hamburger into 5-6 patties. Dip each patty into milk, flour, egg and last of all crackers. Place in a hot frying pan with a little oil. Season with salt, pepper, onion and garlic powder. Turn down heat and fry on one side then flip to other side. Hamburger is done when the juices run clear.
Top with White Gravy. Add extra pepper if desired.
Cottage Cheese Salad
2 cups cottage cheese
1/4 to 1/2 cup each of the following:
     green pepper, chopped
     onion, chopped
     tomato, chopped
chives or parsley, optional
Salt and pepper to taste.
Mix all ingredients and chill.
Would you like to serve food that will lower your grocery bill and your family will love to eat?
Click here to get the Dining On A Dime Cookbook, with tasty recipes and great tips to make your life easier and save you money!