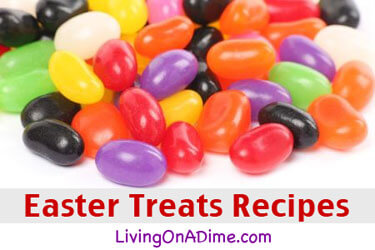 Recipes for Homemade Easter Treats
Here are some recipes for some delicious Easter treats your kids are sure to love! These recipes are tasty and easy to prepare!
Jelly Bean Bark
1 1/4 lbs. white chocolate wafers, bark or chips
2 cups mini jelly beans
Line a 15x10x1 inch jelly roll pan with foil and grease with butter (no substitutes). Melt the chocolate in the microwave for 3-4 minutes, stirring every minute or so. Spread on a pan and sprinkle with jelly beans. When cooled, break into pieces.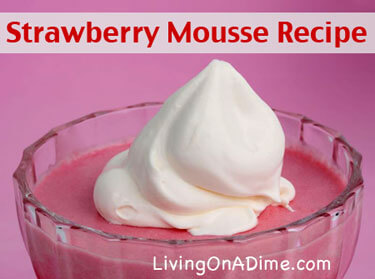 Strawberry Mousse
2 tsp. unflavored gelatin
2 Tbsp. cold water
1/4 cup boiling water
1 1/3 cups instant strawberry drink mix (like Nestle's strawberry)
2 cups heavy whipping cream
2 tsp. vanilla
Soften gelatin in cold water. Let stand 5 minutes. Stir in boiling water and keep stirring until gelatin is dissolved. Cool 10 minutes. Combine drink mix, whipping cream and gelatin mixture, beating until thickened. Beat in vanilla. Spoon into individual dishes. Chill for 1-2 hours. Serves 8.
 Quick Lemon Bars
1 box angel food cake mix
1 can lemon pie filling
Mix ingredients. Pour into a greased 9×13 pan. Bake at 350 degrees for 20 minutes. Sprinkle with powdered sugar.
Bunny Bait
1 bag (about 4 cups) popcorn, popped
Pastel M&M's
Pretzel sticks, broken into about 1 inch pieces
6 oz. white chocolate or almond bark
sprinkles, optional
Place everything but the white chocolate (or almond bark) into a large bowl. Melt the white chocolate in the microwave for 30 seconds. Stir and microwave again, repeating until melted. Pour on popcorn mix and toss well. Spread on wax paper, sprinkle with sprinkles and cool.
For more fun Easter treats, check out these posts:
Easter Fun – Jelly Bean Suckers!
Decorating Easter Eggs with Natural Dyes