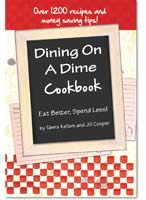 We are giving away a copy of our Dining On A Dime Cookbook! If you aren't familiar with Dining On a Dime, you can check it out here. With over 1200 recipes and tips in the 468 pages you will save money with the first trip to the grocery store and still be able to make meals you family will LOVE!!
To enter, all you have to do is enter your email address so we can notify you if you win before midnight March 21, 2014! BTW, we would love it if you would share this giveaway with your friends on Facebook, Google+ and Twitter! Good Luck!
We have a winner!! Cindy has 24 hours to respond. Thanks for entering!
Entering your name or e-mail address here is for this giveaway only. We will not use it for any other purpose.