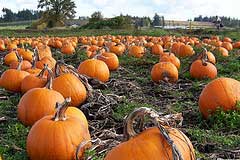 Dehydrated Pumpkin Pie
I love to dehydrate food to preserve it as many of you know from my previous posts. I do freeze some food items but there is always the chance of power going out and other things that cause me to waste food in the freezer. By dehydrating, not much happens to the preserved food and it lasts for years instead just the few months it lasts in the freezer.
Pumpkin is another thing that's great to dehydrate!
Check out this website to watch a video which shows you very easy instructions:
How To Make Pumpkin Pie With Dehydrated Pumpkin.