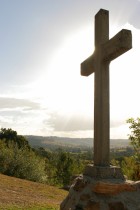 Debt Free Living, Part 2 – God Provides
Hello everyone! I included a couple of my answers from a recent interview about debt free living and how living without debt relates to my faith. Here are two more of those interview questions and in a future newsletter, we'll include the final part, my answer to the top lessons I would give a family or even a single person who is dealing with a tight budget.

-Jill
Interviewer: I have read some incredible stories of God's provision on your blog and website. Would you share some of your favorites? Include some of your own!
I know people get excited about all the big things God provides for us, but more times than not it is the little things that blow my mind. Once, during very hard times, my folks paid for us to drive back for a visit. The day we got back I ran to the grocery store while my husband unloaded the car and gave a piano lesson.
When I got to the store, I walked past the tomatoes and stood looking. What I wouldn't have given just to taste a tomato. It had been so long but I only had enough money for bread and milk, so I shrugged and went on. When I arrived at the checkout counter, I saw the people in front of me picking out magazines and putting them in their carts and once again I thought, "Wouldn't it be nice to have a magazine to read?" Still, I didn't dwell on it and went ahead and checked out.
I arrived home and there on the table sat not one or two but a huge box of home grown tomatoes. I went running through the house so excited to find out where they had come from and there on the piano bench sat 3 stacks of decorating magazines with about 15 magazines in each stack. My husband walked in to find me in a state of shock. The piano student had brought the tomatoes and my grandmother had had my husband stick the magazines in the car before we left for home and I hadn't seen them.
Coincidence? I don't think so.
I had a 40 year old roof which leaked like crazy, but I was barely able to pay our basic living costs, much less pay for a new roof. I messed with it for years. It would leak so bad that, if it rained while we were at church, the 5 gallon bucket in the attic would fill up and still leak into the living room. We finally figured out how to set our large shop vac just so under the leak in the living room. Then we ran the hose from it into another 5 gallon bucket so it would over flow in the attic bucket into the shop vac down the hose and into the last bucket. Clever huh? But a real pain. Finally, we ended up putting a child's swimming pool in the attic because the leak became so large.
One night we had a terrible storm and I was standing outside looking at the shingles from my roof laying in the driveway. I was chuckling to myself thinking, "At this rate they won't need to tear off any of the 3 layers of old shingles by the time I can get it fixed."
A neighbor happened to walk by and asked "Have you thought about calling your insurance company?" He said, "To be honest, 90% of the time they won't fix it, but you might try." I took his advice and out came the adjuster. He said, "We will fix it and even pay for painting the inside and the carpet where it leaked." I was beside myself with excitement… but then he said, "We'll pay for it– you only need to come up with a $1500 deductible."
I crashed. I had no where to get $50, let alone $1500. I told him there was no way I could come up with the money and thanked him. He said he had to crunch the numbers and file a report anyway and would call me tomorrow. He was a rather harsh and intimidating man and as he walked away, instantly, the story of Nehemiah came to my mind. I prayed like crazy that God would soften the man's heart the same way Nehemiah did the king's heart.
The next day the adjuster called and couldn't have been nicer. He said, "I stayed up late last night and re-figured your numbers. If we do this and this and this, I think we can make so you don't have to pay a penny."
In two weeks I had a free new roof.

Interviewer: Have you seen an uptick in traffic in the last year? Book sales up? Do you have any statistics?
Our book sales have steadily increased but the increase has not been any greater than that of any of the other businesses I have had in the past. You would think with these "hard economic times" that our books would be flying off of the shelves, but I am not surprised that people aren't falling all over themselves to learn to how to get out of debt.
We had a business for many years selling player piano and nickelodeon parts. I was always fascinated that these instruments had been so popular during the Depression when money was so tight. After doing some research, I found that statistics show, when times get hard financially, people spend their money, no matter how bad it gets, on two things to help relieve the stress– entertainment and beauty products.
That really makes sense because look what people are buying so much of now— big screen TV's, vacations, trips to the spa, make up, having their hair done– and don't forget comfort foods and large sizes of fast foods and restaurant food. It is human nature to want to buy something to make our "flesh" feel better rather than to buy a book teaching us how to get out of debt and stop spending, which is exactly what the flesh doesn't want to do.
Read part 3 –Dealing With A Tight Budget
Read part 1- Debt Free Living