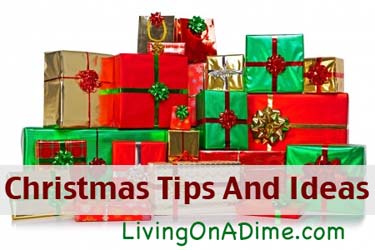 Christmas Tips and Ideas
Keep things as simple as possible. If you find that you are unable to manage the twenty-five different cookie recipes you want to make, pick two or three of your specialties and just make large batches of those. Don't serve fifteen different dishes for Christmas dinner. Just make the five or six favorites.
Cut scraps of fabric or felt into Christmas shapes. You can do this by using cookie cutters or templates. Then attach them to twine, wire or ribbon and use for garland all over the house or on your tree.
When stringing popcorn for garland, let it sit for a couple of days to get stale. Stale popcorn is easier to string. (I sure wish I'd known that a couple years ago year! We made popcorn and cranberry garland. It was very pretty!)
Put some vegetable oil on a rag and polish red and green apples. Place in a bowl and fill in the spaces with greenery. (Lemons look nice, too! …Or is that a different time of year?
Wrap some of the pictures you have hanging on the wall to look like packages. This can be a really cute and inexpensive addition to your decorations!
Send your Christmas packages early. This may seem like an obvious tip, but many people don't do it. You can save a huge amount of money by doing this. Not only will you save money, but the more things you can get done and out of the way early, the fewer things you will have to do all at once at the last minute when too many tasks are already stressing you out!
When you have to send things through the mail, think about what you'll buy. Is it fragile, heavy or very large? None of these are good candidates for shipping. (Some of our family spend $150 in shipping to mail $100 worth of gifts.) Instead, send smaller items like videos, CDs, or books, which can be sent inexpensively by Media Mail. If you're OK with gift certificates, you can usually send them for the price of one stamp.
Do you like to have fresh greenery in your home for Christmas? Go to any place that sells Christmas trees (tree lots, Lowe's, Wal-Mart, etc.) and ask for the branches and cuttings that have fallen off. They are usually glad to get them off of their hands since they're just going to throw them away. Besides using them for decorations, try tucking them in and around your artificial tree to give it that fresh tree smell. (We sometimes go to a local park after a windy day and collect freshly fallen evergreen boughs.)
For the kids' table at Christmas or just to use as a cute decoration, put a candle in a glass jar or bowl. Fill the rest of the bowl around the bottom of the candle with cinnamon candies, peppermints, nuts or colored gum balls or jaw breakers.
I like decorating my house in a Candyland theme each year. If you have the same type of theme, at each place setting for dinner decorate a small glass jar with a ribbon around it and fill it with multi-colored candy. This not only adds to the table decorations, but you can write the person's name on the jar and make it a small gift for him or her to take home.
One of our traditions at Christmas is to always dress up. After all, we are celebrating Jesus' birthday, and in the same way that we would dress our very best if we were invited to the birthday party of the Queen of England or the President, why do any less for Christ's birthday? Besides, dressing up adds to the fun!
Buy your Christmas tree after December 15th when they are much less expensive.
Instead of a fancy tree skirt, use a white sheet. The colored gifts look great against the white. (Then your seven year old can decide she wants to wear the tree skirt herself!
Don't worry about the extra expense of a "tree extender". They don't really work. Your tree just needs lots and lots of water. Make sure the cut end is always under water or it'll seal itself shut and stop drinking. Check often! Your tree may drink gallons of water in the first few days.
Go to your carpet store and ask for the cardboard cores that carpet comes on. I wrap them in white plastic trash bags and twist red ribbon around them. That way I have instant giant peppermint sticks for my outside decorations (and they don't cost $50 each like the ones in the stores).
Are some of your Christmas decorations and ornaments looking a little battle-scarred and worn? Maybe you want to change from the country look to a more sophisticated look? Try spray-painting your older things with gold, silver or copper paint.
Recycle that artificial tree that you don't want any more. Bend the branches and connect them to make either one very large wreath or several small ones. If you're not ready to part with an artificial tree, you can still watch at garage sales for inexpensive trees to use for wreaths in the coming year.
If you send a lot of cards each year, consider sending postcards instead of Christmas cards. They are less expensive to buy and cost less to send. You can even recycle some of the fronts of old Christmas cards to use as postcards.
Got more eggnog than you can drink? Use leftover eggnog for French toast. Just add a little cinnamon to it and it works wonderfully.