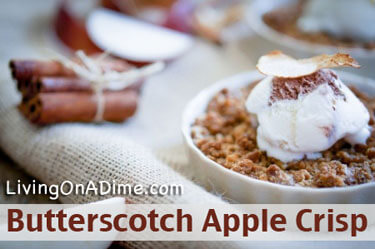 This Butterscotch Apple Crisp Recipe makes a delicious homemade apple crisp recipe that is quick and easy to make!
Butterscotch Apple Crisp Recipe
6 cups apples, peeled and cored
3/4 cup brown sugar
1/2 cup flour
1/2 cup quick cook oats
1 package cook and serve butterscotch pudding
1 tsp. cinnamon
1/2 cup butter
Place apples in your crock pot. In a bowl mix other ingredients, cutting in the butter. Then sprinkle over apples. Cover and cook for 5 hours on low until tender.