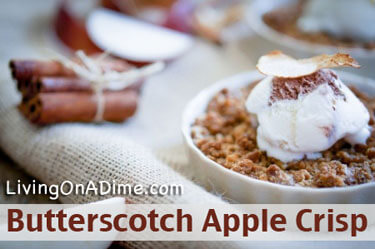 This Butterscotch Apple Crisp Recipe makes a delicious homemade apple crisp recipe that is quick and easy to make!
Butterscotch Apple Crisp Recipe
6 cups apples, peeled and cored
3/4 cup brown sugar
1/2 cup flour
1/2 cup quick cook oats
1 package cook and serve butterscotch pudding
1 tsp. cinnamon
1/2 cup butter
Place apples in your crock pot. In a bowl mix other ingredients, cutting in the butter. Then sprinkle over apples. Cover and cook for 5 hours on low until tender.
Would you like to serve food that will lower your grocery bill and your family will love to eat?
Click here to get the Dining On A Dime Cookbook, with tasty recipes and great tips to make your life easier and save you money!