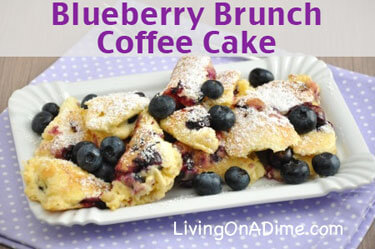 This tasty Blueberry Brunch Coffee Cake Recipe is a delicious breakfast item. Since you can make this recipe the night before you need it, it's perfect to serve to overnight guests or on a special holiday morning!
Blueberry Brunch Coffee Cake Recipe
1 loaf (1 lb.) day old French bread cut into 1/2 inch cubes
1 1/2 cups blueberries
12 oz. cream cheese, softened
8 eggs
1/2 cup plain yogurt
1/3 cup sour cream
1 tsp. vanilla
1/2 tsp. cinnamon
1/2 cup milk
1/3 cup maple syrup
 Place half of the bread cubes into a greased shallow 3 qt. baking dish. Add the remaining ingredients in order, mixing well. Pour half of the cream cheese onto bread cubes and mix. Top with the rest of the bread, finish off with cream cheese and mix. Cover and chill overnight. Remove from the fridge 30 minutes before baking. Cover and bake at 350 degrees for 30 minutes. Uncover and bake 20-25 minutes longer or until a knife inserted in the center comes out clean.
Serve with blueberries and syrup.
Would you like to serve food that will lower your grocery bill and your family will love to eat?
Click here to get the Dining On A Dime Cookbook, with tasty recipes and great tips to make your life easier and save you money!