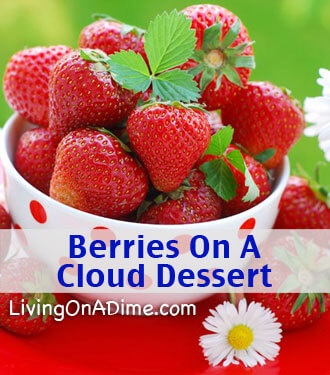 This Berries on a Cloud Dessert Recipe makes a delicious light and fluffy dessert resembling meringue. It's soft and sweet with a yummy strawberry flavor!
Berries on a Cloud Dessert Recipe
Crust
6 egg whites
1/2 tsp. cream of tartar
1/4 salt
1 3/4 cup sugar
Filling
1 (8oz) pkg. cream cheese
1 cup sugar
1 tsp. vanilla
1 (8 oz) container of whipped topping
2 cups mini marshmallows
Topping
1 can (21 oz) cherry pie filling
1 tsp. lemon juice
1 pint fresh strawberries
Preheat oven to 275 degrees. Beat egg whites, cream of tartar, and salt until foamy. Add sugar, 1-2 Tbsp. at a time, until 1 3/4 cup is added. Continue to beat until stiff peaks. Spread into a greased 9×13 pan.
Bake for 1 hour, turn off oven and do not open the oven door. Leave in the oven with door closed for 12 hours.
After the 12 hours, mix cream cheese, sugar, and vanilla. Fold in whipped topping and marshmallows. Spread over meringue. Chill for 12 hours. Mix pie filling, lemon juice and strawberries and spoon over each serving.
Would you like to serve food that will lower your grocery bill and your family will love to eat?
Click here to get the Dining On A Dime Cookbook, with tasty recipes and great tips to make your life easier and save you money!