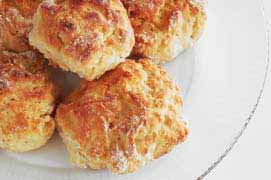 Baking Mix Biscuits
2 1/4 cups baking mix
2/3 cup water or milk
Mix lightly until dough forms a ball. Turn onto a lightly floured surface. Knead 10-12 times. Roll dough about 1/2 inch thick. Cut with a 2-inch cutter or the rim of a glass dipped in flour. Bake at 450° for 10-12 minutes on an ungreased cookie sheet. For drop biscuits, use 1 cup water and drop by tablespoonfuls onto a baking sheet. Makes one dozen.
*For cheese biscuits, add 1/4 cup cheddar cheese.
For more quick and easy recipes like this, check out our Dining On A Dime Cookbook!