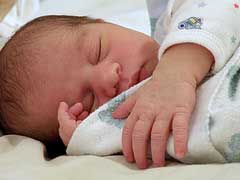 Baby's Crib Sheet Saving Tip
Linda P. writes:
Are you tired of changing the entire bed every time the baby has a 'leak'? Just put a small waterproof pad on top of the crib sheet and then cover it with a small (home made) fleece blanket. Fleece is easy to use since it wicks away moisture and can be cut easily without needing to be sewn. Make sure the fleece is wide enough to tuck tightly into the sides of the crib. The next time the baby needs a dry diaper and pajamas, you won't have to change the entire bed – just pull of the fleece and waterproof pad, put a clean one down and your done! Also, you don't have to spend money on expensive crib bedding!!
We did this with all four kids and it was a LIFESAVER!!! It helped cut down on the laundry so much that it was really worth it!
Just a side note I thought you might like to hear. When I was talking to my great-grandmother who raised 2 kids during the Dust Bowl (They were right in the middle of the Dust Bowl in Baca County, Colorado.) I asked her how she washed diapers with so much dust around? She said, "I didn't. I just let the wet ones dry over the chairs or on a rope in the house and put them back on when they were dry. I only washed out the pooped ones." We think we have it so bad now! LOL
      -Tawra
What you said is so true Linda. I rarely changed my babies' sheets. I don't know what I would have done without the waterproof pads and a little flannel blanket on top. So many people complain about all the laundry they have to do and ask how to save, but the best answer to that is to make less laundry, whether with babies or adults.
      -Jill
Photo By: Jon Eben Field