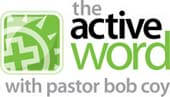 Several readers have asked about our church. We go to church at Calvary Chapel Ft. Lauderdale. When we lived in Kansas, we joked around that we were the Andover, KS branch because we watched it home with mom and my brother and his family.
We've decided to post a teaching from Pastor Bob here each Sunday for those of you would like to enjoy it also.
If you don't have a church home and can't attend then you can watch their services live here.
Eastern Standard Time:
Saturdays – 6pm
Sundays – 8am, 10:15am, 12:30pm
Wednesdays – 6:30pm
If you can't watch it live, here is a message you might like:
From Pastor Fidel Gomez
If you say you're a Christian, when do you actually "Christian"? Pastor Fidel explains why the word "Christian" is a verb, pointing us to Jesus' example of meeting others' needs and taking time to talk with a seeker, sit with a sinner, invest in the sick and minister to the saved.
Enjoy!
-Jill, Tawra and Mike