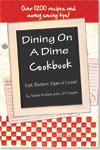 15 Year Celebration!! Book Giveaways and Big Discounts!
 I'm excited to announce that we are having an anniversary here at Living On A Dime and to celebrate, we're going to be offering big discounts and giving away free stuff!!
Over the next four weeks, we'll be giving away free copies of our popular print books and e-books and you'll also be able to get half off of different items each week even if you don't win the free stuff! And don't worry! If you buy something at 50% off and you end up winning the giveaway, we will refund the purchase price for the item you won.
It all started fifteen years ago I was pregnant with my first child. I was very sick, on doctor ordered bed rest and pretty much sitting and chatting on the computer most of the day. I spent most of my time at Parentsplace.com on the November 1997 expecting group chat room. After giving tons of free advice on saving money, I moved over to their Frugal Living board too!  I spent a long time giving free advice about saving money and telling how Mike and I were getting out of debt. 
Then I decided to re-read one of my favorite books, the Tightwad Gazzette.  In the Tightwad Gazzette, Amy Dacyczyn mentioned that everyone kept asking her how to save money on groceries and telling her how they wanted a frugal cookbook but she thought it would be too time consuming to do it right and she didn't like to cook anyway.  That was when I came up with my "brilliant" idea to write a frugal cookbook with cheap recipes and make some money instead of giving all my advice away for free.  Mike, being the ever supportive husband that he his said, "Sure, go ahead and write it," but having no idea at that time that my "brilliant" idea would totally consume his life too! 🙂 Mike: Ack! Someone save me!!
It took me two years to compile all 1200 of of my mom's, my grandmother's and my own recipes and tips together into an almost 500 page book!! Then Not Just Beans was born with our first self-published printing in 1999.  We didn't make any significant profit for the first 8 years. We've had 3 or 4 cover changes, renamed the book, self-published, had a publisher and are self-publishing again and have sold over 200,000 copies of what is now called Dining On A Dime Cookbook. We now have 5 print books and over 35 e-books so we are celebrating hanging on all those years when I kept saying, "I quit"!    
To celebrate 15 years of Dining On A Dime, we are going to be holding giveaways of some of our books and e-books over the next four weeks.
To kick things off, this week are giving away:
February 27th and 28th- Penny Pinching Mama Print book or e-book
February 28th- 29th – Groceries On A Dime e-book set
March 1-2- Pretty for Pennies e-book
You can also get a 50% off sale discount on Penny Pinching Mama print books and e-books and the Groceries on a Dime e-books this week!
Watch for the giveaway posts and enter for your chance to win or take advantage of the 50% off deals and pick up a copy for friends and family!
 You can find the first giveaway here:
To check out this week's 50% off sales, follow the links below!
Find the 50% Off Penny Pinching Mama sale here!
Find the Half Price Sale on Groceries On A Dime e-books here!